Drunk students block central street in St.Petersburg with giant anchors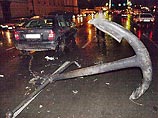 About 20 drunken officers and their girlfriends caused a large car accident in the center of St.Petersburg. Three cars ran into each other at 4:00 a.m. on June 26th. The accident occurred because of large anchors, which blocked the road. It could never occur to drivers that they could run into the anchors at night. A driver of a Citroen was shocked to see the anchors resting in the middle of the road and slammed his car in the cast-iron obstacle. The driver of a Zhiguli vehicle was trying to avoid the collision, but he could not steer and ran into a Mercedes.
The anchors appeared on the street of St.Petersburg owing to the efforts of final-year students of one of St.Petersburg naval schools. The graduates decided to celebrate the end of their studies in such a peculiar way and dragged the anchors in the middle of Admiralty Street.
Photographer Aleksei Vorobyov was lucky to take pictures of the crime. The photographer came out into the streets of St.Petersburg early in the morning to take pictures of illuminated cathedrals. On his way to the Kazan Cathedral, the man saw a group of students pulling large anchors off pedestals. When the graduates pulled the anchors down, they left them in the middle of a busy road, which was poorly illuminated: the anchors were hardly visible.
The students and their girlfriends were apparently thrilled to see the first car running into the anchor. They immediately decided to pull other anchors off their pedestals. The police did not arrest any of the hooligans, in spite of the fact that a police station was situated not very far from the site of the accident. Photographer Aleksei Vorobyov said that one of the graduates came up to the driver of a crashed car and cheered the sad man up saying that it was such great fun.