Porn star Rocco Siffredi is not a 'real man' anymore
Porn star Rocco Siffredi states that playing sex in films is more difficult than making sex in real life.
The Planet's Golden Penis, famous porn star Rocco Siffredi paid a visit to Russia's St.Petersburg. The actor liked Russian girls so much that between his numerous dates he could hardly find some time for an interview.
It is not for the first time that Rocco visits Russia. And he explained why he came to Russia this time. At a porn festival in Barcelona last year Rocco arranged that he would appear in a sexual scene in his new film with Russian actress Tanya Tanya. So, this year he came to St.Petersburg for this very purpose. Unfortunately, the Russian actress turned down the offer to appear in Rocco's film and said that her sister Maryana would be able to appear instead of her. Rocco says that he will hardly appear in a film with the sister. According to the terms of his contract, he cannot appear in a number of films. "Tanya Tanya is a well-known film star while her sister is little known. To begin with, I have invited Maryana to my film studio in Budapest . During my previous visit to Russia I met two sexy girls in Russia , and now they are working with me at my studio," Rocco says.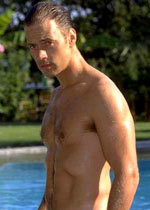 Many people wonder how the porn star has managed to maintain excellent relations and keep the family with his wife whom he married eleven years ago. Rocco says that his future wife knew from very beginning that he was a porn star and realized perfectly well all peculiarities of the profession. Rocco's wife is a very beautiful woman as the actor says himself; she won the Miss Hungary title in 1992. The couple has two sons, Lorenzo and Leonardo, who as the father expects may like to become porn stars as well.
This is sad that Rocco's profession and the instrument with which he earns millions of dollars are the cause of discord in his family. His father was happy to learn how his son is making money. He used to say: "Rocco, you have had so many women and will have even more! And at the same time, crowds of women desire to have sex with you." Rocco was always his mom's favorite son, and so she loves everything that her lovely son does. The situation is much worse with Rocco's five brothers. Three brothers strongly criticize his profession and still skew at me because of my profession. The rest two brothers prohibit visiting them and insist that Rocco must never mention he is his relative. Rocco changed his birth name Rocco Tano for Rocco Siffredi at very beginning of his porn career so that the brothers could have no problems because of him.
One day Rocco's wife said she did not like that he enjoyed numerous orgasms while making films in the studio and came home absolutely exhausted. So, he had to make a choice either to continue appearing in porn films or having good sex with wife. Rocco says it was a hard thing to choose, and now he appears in 'normal' films. And still, when appearing in non-porn films, Rocco still makes love with film partners. Remember Cathetrine Breillat's Romance and Anatomy of Hell (Pornocratia). But Rocco says that even though he makes love in both types of films, there is still immense difference between porn and normal films. "In porn I have sex while in non-porn films I just play that I make sex which is a great difference indeed. I tore 30 condoms because of nervous tension when appearing in sex scenes in Romance. At the same time, I can have excellent erection within many hours of performing in porn films. When working with Catherine, my penis got so miserably small every time I heard Action!' Rocco says .
Rocco always picturesquely and in detail tells about his work as a porn star or a porn film director and he never feels ashamed of it. He is sure that reality shows are the only indecent thing that may ever exist. Reality shows from his point of view are awfully hypocritical and even worse than porn for all people. He never lets his children watch reality shows on TV. So, Rocco sometimes acts an ardent champion of morals. However, he appeared in porn films together with wife a couple of times. And now he regrets the experience in spite of the fact that none of the crew just a cameraman were in the room when Rocco and his wife made sex.
Like many men, Rocco feels proud when saying how many women he had sex with. He says that besides his wife and lovers he has had sex with about four thousand women when appearing in porn films. The porn actor says that his principle is to watch a woman's eyes every time he penetrates into her. So, he insists that he remembers every woman with whom he had intimate relations. And Rocco is sure that all these women remember him as well. For many of them this is a good recollection while for others having sex with Siffredi was an unpleasant experience. Rocco says that his penis of about 22 cm is too big for some women. And the porn actor adds that in case he feels more affection to some particular woman his penis may increase even up to 24 cm.
In his interview to Russia's Express Gazeta newspaper Rocco said that he is popular among Russians, Russian women often ask for an autograph. At that, they are sure that Rocco is an actor performing in some Latin-American soap operas.
Sex shops in different countries offer a natural size copy of Siffredi's penis for $70 each. Ladies have bought about 350,000 rubber penises.
In 2000, an opinion poll was conducted in the USA to find out 100 people whom Americans think deserve surviving in a global catastrophe. After the poll, it turned out that Rocco was given the 78th position.