Noise-making CD to take revenge on noisy neighbors available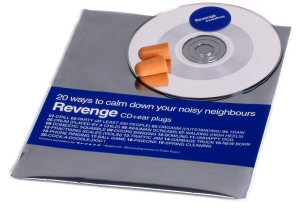 A curious item is available on the Internet. It is a CD for taking revenge on neighbors for loud music, screaming or any other noise-making effects, especially at night. 
The CD, which includes 20 tracks, costs about $20. Earplugs included. Gadgets.co.uk, where the Revenge CD is being sold, says that the earplugs are needed "for your sanity and protection." The advertisement on the website offers to buy the CD and reap sweet revenge. It is enough to play one of the sound effect tracks and stop up your ears (or go out for half an hour). Results will follow shortly.
The list of noise-making tracks includes:

1. Drill.
2. Party (at least 200 People).
3. Orgasm (Outstanding).
4. Train.
5. Drum (Played by a Child).
6. Inhuman Screams.
7. Walking (High Heels).
8. Domestic Squabble.
9. Doors Banging.
10. Bowling.
11. Unhappy Dog.
12. Practicing a violin.
13. Traffic Jam.
14. Garbage Truck.
15. A screaming newborn baby
16. Phone Ringing.
17. Ball Game.
18. Pigeons.
19. Spring house cleaning.
20. Cock-a-Doodle-Do!

Software designers suggest any of these tracks will let you reap sweet revenge on noisy neighbors.