Nail biters to be treated in a special treatment centre in the Netherlands
The world's first treatment centre for nail biters is to open in the Netherlands next month.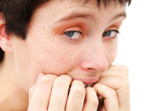 Director of the new centre in Venlo, Alain-Raymond van Abbe of the Institute for Pathological Onychophagy (IPO) says he and his team have invented an aid to make nail-biting impossible.
"This is the first place ever to tackle this very serious problem," he explained. "We are expecting clients from all over the world."
He said initial trials had been almost 100 per cent successful and that people attending the centre could expect to be completely cured within four weeks.
"The treatment has been successful for 98 per cent of the first trial patients. Very few fall back into the habit," he said.
There are about 2 million people who bite their nails in the Netherlands, according to officials at the centre.
Studies have shown that as many as 15 per cent of adults, 33 per cent of young children and 45 per cent of adolescents bite their nails.
The centre fits a special device to the hands that allow normal activities but prevent nail biting, and at the same time gives patients extensive therapy and counselling to get them to stop.