Woman brutally rapes male dog and fractures his penis
A man prepares to file a lawsuit against his female friend, whom he asked to look after his dog for the time of his absence from the city. The woman brutally raped the dog and fractured his penis.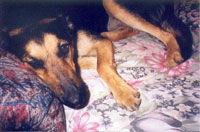 The incident took place in Moscow. Even experienced vets were shocked with the story of a 34-year-old Muscovite named only as Sergei G. The owner of the poor dog has already obtained all necessary certificates from the veterinary clinic and currently prepares to file a police report to call his zoophilistic friend to account, Life.ru tabloid reports.
Never in his wildest dreams could the man imagine that he would become a part of such a crazy story. The story actually happened to the man's terrier Staf. Medics told the man that the dog's penis was fractured and his scrotum was severely bruised.
Sergei was going on a business trip, and it just so happened that he had no one to ask to take care of his dog for the time of his absence. At his last gasp, the man gave his apartment keys to a good friend of his, a woman.
When the man returned, he found his dog in a terrible state. The man's pervert friend maimed the dog's genitals.
"I never knew she could do such a thing! I came back home, opened the door and found my dog lying on the mat yelping," the man said. Staf's penis was literally nibbled.
Vet doctors were shocked to see the dog when Sergei brought his pet to a local vet clinic. "We could not believe our eyes when we saw the animal," a veterinary said. They concluded that the dog had not been injured in a fight with another dog.