Elderly man unveils ultra-rare picture of Marilyn Monroe hitchhiking naked
A 73-year-old man residing in Las Vegas caused a funny stir in the media this week, when he announced that he had found an ultra-rare nude photograph of Marilyn Monroe.
Lawrence Nicastro said that he had found a poster-size black and white picture of the legendary actress last year, when he was looking through storage items at his home in Las Vegas. The man thought that it was a customer who had left the picture at his service station in the Bronx in 1962.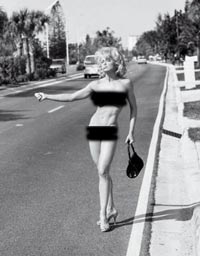 The man and his wife, Phyllis, spent four months fishing for information about the picture. The couple called Chris Harris, a publicist and a Monroe expert, for help. The latter scheduled a news conference to unveil the image to reporters.
The two men gave a sneak peak to The Associated Press prior to the news conference.
Reporters laughed when the ultra-rare nude picture of Marilyn Monroe turned out to be a picture of Madonna. The image originally appeared in Madonna's Sex book, a bestseller, which she published in 1992 along with the release of her Erotica album. On the photo Madonna appeared hitchhiking naked; she was wearing only heels and a handbag.
"You're right; it's Madonna," Harris said after being told of the mix-up. Harris said he believed someone had slipped the poster into Nicastro's storage as a prank.
"If there ever was an embarrassing moment," he said, adding that he planned to go ahead with the news conference to "face the music."
There is one person, he noted, who should feel good about the mistaken identity.
"Who wins here? Madonna, of course," Harris said. "She really looks like Marilyn Monroe."