Cockroach sacks dozens of TV reporters in Turkmenistan
The incident on the state-run television of Turkmenistan, a republic of the former Soviet Union, took place in the beginning of February. A group of employees working on the TV channel was fired; about 30 others were strictly reprimanded.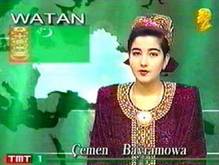 A cockroach appeared on the desk of the TV host of the evening news program WATAN, which airs in Turkmenistan at 9:00 p.m. local time. The cockroach boldly crawled across the whole desk while the host was reading out news messages. The recorded program with the cockroach was broadcast again the same day, at 11:00 p.m.
When the news program was aired the next morning for the third time, officials from the Ministry for Culture, TV and Radio Broadcast noticed the infamous insect.
Turkmenistan 's new Minister for Culture, Gulmurat Muradov, promised to breathe the new life in the state-run television of the country. He particularly set up a special committee to review all programs and point out their drawbacks. The committee apparently works from 9 a.m. till 6 p.m.; that is why they noticed the cockroach only the next morning.
Editors, directors, cameramen and technical staff were either fired or strictly reprimanded.