Cat gets King Tut tattoo on its chest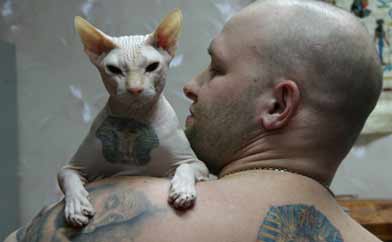 A tattoo artist tattooed a Don Sphinx cat. The cat's owner asked the artist to make an Egyptian pharaoh tattoo on the chest of the pet. The 30-year-old owner of the cat named as Mickey can now hardly take his eyes off his tattooed treasure.
"The process took only several hours. The cat was definitely under an anesthetic during the entire procedure so he did not feel anything. Now my cat is a star! Everyone is thrilled when they see my cat and they want to have their pictures taken with the cat all the time. I named the cat in honor of my favorite actor, Mickey Rourke," the cat's owner said.