Muscular bronze stallion with weird human genitalia advertises provincial hotel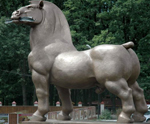 A bronze sculpture of a stallion holding a piece of rail in its mouth was built last week in the yard of Yar Hotel
situated at the entrance to the Russian town of Voronezh. The 3.5-meter-high statue weighs more than 3 tons. The stallion has a short-cut tail and the well-marked reproductive organ which greatly resembles the one of a man.
Maxim Dikunov named his stallion Yaryzh and said that it symbolizes the struggle between nature and civilization.
According to Maxim's mother, the management of Yar Hotel arranged a contest to choose the sculpture which could perfectly express the atmosphere of the hotel. A lot of sketches were suggested to the hotel
administration. Finally they choose the stallion.
When the sculptor's father was asked about the stallion's human sex organ he said that "it is just a matter of nature and peopel should not stick noses in it."
Yana Chernyshova, the hotel's director, said that she liked this sculpture very much. She said that the artist exceeded her expectations. When she saw the sculpture she realized that it was exactly what she wanted.