Hot sexy girls with slim waists enjoy immense popularity across centuries
Hot sexy girls with narrow waists have enjoyed immense popularity across centuries. A team of researchers in the United States surveyed accounts of female beauty in British literature from the sixteenth, seventeenth and eighteenth centuries, and found that the only feature that consistently got authors' pulses racing was a slender midriff.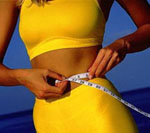 "The waist does not sound an intuitively sexy body part," admits Devendra Singh of the University of Texas, Austin, who led the study.
But nevertheless, "it was the one thing on which the hundreds of writers surveyed seemed to be unanimous. They didn't even agree on whether big breasts, that modern staple of sexual attractiveness, are nice or not," he said. A preference for hot girls with slim waist is also found in first-century Indian writings and fourth-century Chinese works, Singh's team had previously found, Nature magazine reports.
The popularity of a slender middle might be due to what it reveals — woman's health and fertility, Singh was quoted as saying by Nature.
Healthiness is associated with low levels of abdominal fat, and high levels of female sex hormones such as oestrogen pinch the waistline and give the body an hourglass shape, the magazine said.