Nude girls take speed limit signs to control traffic (video)
Nude girls who call themselves Speed Patrol Bikini Bandits stand at the side of Copenhagen roads holding speed limit signs. The Danish Road Safety Council launched a viral campaign designed to draw attention to the speed limits.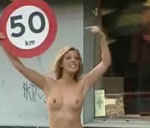 "Make way for the speed control Bikini Bandits. A specially trained team of enthusiastic young women not afraid to do whatever it takes so that motorists pay more attention to the speed limit."
Heidi Svendsen, head bandit says, "Sure what we do is extreme but I know from my heart what we are doing is working. People are slowing down. People are noticing.
It's a fantastic idea. It's really kind of obvious. Why didn't they think of this sooner?
A turban wearing taxi driver is asked, "What do you think about nude girls holding speed limit signs?" "Nude girls? Denmark has redeemed itself!", he says.
Click here to see the video of nude girls with speed limit signs

But the plan wasn't entirely foolproof, says Sweeney.
Brent Koch Hansen, Traffic Police, says, "In the beginning the nude girls worked great. But let's say it wasn't entirely thought through."
One could argue that traffic in Copenhagen and much of Denmark has come to a total standstill, thus pushing the tolerance level of many Danes.
A woman says to the camera, "I don't like them and I know a lot of others that feel the same."
Heidi responds, "I couldn't care less what anybody said. If people are slowing down we've done our jobs and since we're the world's best we will continue to do our jobs."
Sweeney concludes, "There you have it. Denmark's Speed Patrol Bikini Bandits. Like them or not, now Danish speed limits are rarely ignored and nearly impossible to miss."